MESSAGE FROM FR THOMAS NAIRN OFM CICIAMS ECCLESIATICAL ADVISER MARCH 2016 FOR JUBILEE YEAR OF MERCY 2016
MESSAGES OF POPE FRANCIS WORLD DAY OF THE SICK FEBRUARY 11TH 2017
MESSAGES DU PAPE FRANÇOIS - LA JOURNÉE MONDIALE DU MALADE 2017
PDF FILES BOTSCHAFT VON PAPST FRANZISKUS ZUM 25. WELTTAG DER KRANKEN 2017 * MESSAGE DU PAPE FRANÇOIS POUR LA XXVe JOURNÉE MONDIALE DU MALADE 2017 * MESSAGGIO DEL SANTO PADRE FRANCESCOPER LA XXV GIORNATA MONDIALE DEL MALATO 2017 * Orędzie Papieża Franciszka na XXV Światowy Dzień Chorego 2017 r. * MENSAGEM DE SUA SANTIDADE FRANCISCO PARA A XXV JORNADA MUNDIAL DO DOENTE 2017 * MENSAJE DEL SANTO PADRE FRANCISCOPARA LA XXV JORNADA MUNDIAL DEL ENFERMO 2017 * MESSAGE OF POPE FRANCIS WORLD DAY OF THE SICK 2017 *
PHOTOGRAPHS AFRICAN REGIONAL CONGRESS SWAZILAND 2016
6TH AFRICAN REGIONAL CONGRESS SWAZILAND 23-26 AUGUST 2016 PROGRAMME
CICIAMS EXECUTIVE COMMITTE IN ROME 2016 PHOTOS
CICIAMS INTERNATIONAL CONGRESS PRESENTATIONS DUBLIN 2014
CICIAMS INTERNATIONAL CONGRESS 2014 PHOTOGRAPHS
CONGRESS ASIAN REGIONAL CONGRESS SINGAPORE 2010
CICIAMS STANDING ORDERS AND STATUTES
CICIAMS -WHAT WE ARE -INFORMATION LEAFLET- ENGLISH
CICIAMS -LO QUE SOMOS- ESPAÑOL
CICIAMS--CE QUE NOUS SOMMES-FRANÇAIS
CICIAMS PAPAL AUDIENCE
CICIAMS CONGRESS PRESENTATIONS AND CONGRESS REPORTS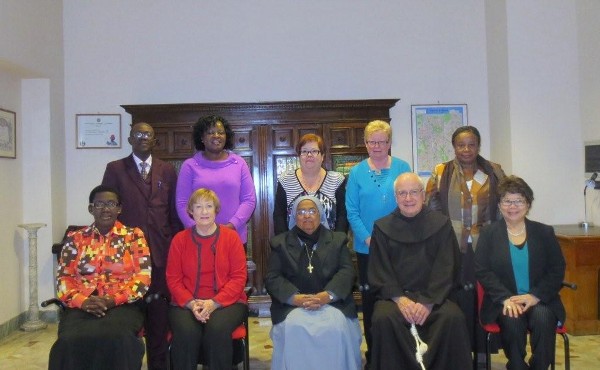 CICIAMS Executive Committee Meeting Rome Standing from left to right: Donatus Akpan, Janet Muchengwa, Annemarie Vlaemynck, Agnes De Baets and Lucy Thanga. Sitting from left to right: Juliana Nwazuruoke, Geraldine McSweeney, Sr Anne John RJM, Fr Thomas Nairn OFM and Theresa Cheong

Bienvenue sur le site Web du Comité International Catholique des Infirmières et Assistantes Médico-Sociales.

L'objectif de ce site est d'aider et de soutenir les infirmières catholiques à travers le monde en les tenant au courant des questions morales actuelles et en les mettant en communication avec d'autres organismes poursuivant les mêmes buts en vue d'une entraide mutuelle.

Le CICIAMS est une organisation internationale, il utilise le français et l'anglais en tant que langues principales de communication. En vue de faciliter l'accès de ce site aux visiteurs, nous avons, autant que possible, utilisé un code de couleurs. Vous trouverez donc, dans la plupart des cas, le texte anglais sur un fond vert et le texte français sur un fond jaune. Nous proposons également une barre de langues pour permettre aux visiteurs de lire et de comprendre les textes dans leur propre langue

Le CICIAMS est une association privée, reconnue par l'autorité ecclésiastique et en relation étroite de travail avec le Saint Siège et avec les Organisations Catholiques Internationales.

En conformité avec l'enseignement moral et social de l'Église, le CICIAMS s'engage à donner un témoignage chrétien en éclairant et en soutenant les associations professionnelles et les travailleurs de la santé de par le monde.

Welcome to the web site for the International Catholic Committee for Nurses and Medical Social Assistants.

The aim of this web site is to help and support catholic nurses around the world by keeping them abreast of current ethical issues and to net-work similar minded organisations in order to help one another.

As CICIAMS is an international organisation, it uses both French and English as its two main languages of communication. To try and make things easier for visitors to our web site, we have colour coded as many entries on the site as possible. You will therefore find, in most cases, English text in green boxes and French text in yellow boxes.We have also introduced a language bar to enable visitors of other languages to read and understand the text on our site.

CICIAMS is classified as a private organisation, recognised by the Ecclesiastical Authority, with close working relationships with the Holy See and all International Catholic Organisations.

Informed by the moral and social teachings of the Catholic Church, CICIAMS is committed to:Promoting the Christian and professional values in nursing care with National and International Associations around the world.
| | |
| --- | --- |
| | |
| | |
| | |
| | |
| | |